Leadership Foundations Workshops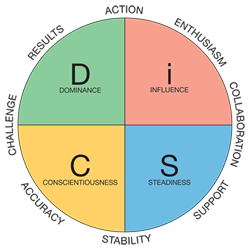 Everything DiSC Workplace information sheetEverything DiSC Workplace sample report
Whether it's a desire for increased leadership self-awareness, or the need to increase team effectiveness through a greater awareness of each team member's workplace priorities and preferences, the Everything DiSC Workplace Priorities and Preferences Workshop delivers.
Through the completion of an online DiSC Everything Workplace profile, participants will explore throughout the workshop the DiSC model and their own personal workplace 'comfort zone' behaviours within this model. The workshop dynamic ensures that participants also gain an understanding of the behaviour of others and how to use this learning to ensure increased leadership success in the workplace.
Participants will also through the use of the DiSC model understand how to work more effectively with their 360 degrees of stakeholders in the workplace, in particular how to manage diverse team members more effectively and how to manage up to their manager more effectively.
To ensure a strong transfer of the workshop learning participants will also complete an insight to action plan focusing on what they would like to STOP, START & CONTINUE doing as it relates to their workplace behaviour.
Contact us to schedule a Leadership Foundations Workshop for your team.
Get in touch
Five Behaviours of a Cohesive Team Workshop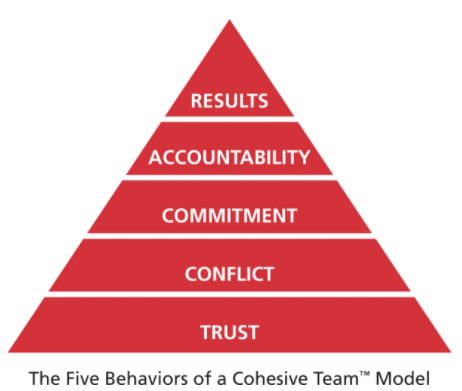 5 Behaviours of Cohesive Teams information sheet5 Behaviours of Cohesive Teams sample report
The single most untapped competitive advantage is teamwork.
The Five Behaviors of a Cohesive Team is a workshop based on the team dynamic concepts of best–selling author Patrick Lencioni. It creates a learning experience that helps individuals and organisations reveal what it takes to build a truly cohesive and effective team in the most approachable, competent, and effective way possible.
Powered by Everything DiSC pre-workshop individual and team diagnostics bring together everyone's behavioural traits, highlighting the greatest development needs for the team as a whole. The Five Behaviors workshop guides teams through the hard work and huge payoff of forming a cohesive, productive team.
Trust One Another
When team members are genuinely transparent and honest with one another, they are able to build vulnerability-based trust
Engage in Conflict Around Ideas
When there is trust, team members are able to engage in unfiltered, constructive debate of ideas

Commit to Decisions
When team members are able to offer opinions and debate ideas, they will be more likely to commit to decisions
Hold One Another Accountable
When everyone is committed to a clear plan of action, they will be more willing to hold one another accountable
Focus on Achieving Collective Results
The ultimate goal of building greater trust, conflict, commitment, and accountability is one thing: the achievement of results
Contact us to schedule a Cohesive Team Workshop for your team.
Get in touch
"I have engaged Shanelle on numerous occasions to provide leadership training and coaching across various levels of management. Shanelle's approach is thorough, progressive and based on real life experiences. She ensured the program was strategically aligned to the needs and challenges of our business and each individual to ensure leadership growth and development at multiple levels." – Global Head of Health, Cover-More Group
"Shanelle's leadership training has assisted me to drive organisational culture change during a period of significant business restructure and integration—while helping me build and develop a strong, highly functioning leadership team. I take great pleasure in recommending Shanelle for her contemporary approach, engaging communication style and application of real life examples to drive real behavioural change and business outcomes." – CFO, PlayBill Entertainment