---
Leave a great impression.
---
An easy to follow guide with my best advice on what to do before, during, and after the interview to position yourself as the standout candidate.
---
How to prepare thoroughly for your interview
How to master tough interview questions
10 critical techniques to apply during the interview
Common pitfalls to avoid
What to do afterwards to increase success
---
---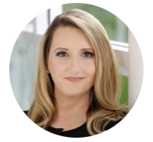 Shanelle Moloney, Managing Director
"Many people think that an interview is an employer driven process where, as an interviewee, your job is to answer tough and clever questions, then hope you get the answers right – and if you do, and they really like you, then you get the job!
I like to call this the Great Interview Myth.
An interview is actually a marketing opportunity to 'sell' your brand to a prospective employer, and for an employer or recruitment agency and interview is to decide if there is anything unique about you, that sets you apart from others, with the same experience and qualifications.
I've designed this Interview Optimisation Guide to help you prepare thoroughly, execute well and follow up effectively, to stack the odds in your favour."
Position yourself as the standout candidate with help from expert interview consultant, Shanelle Moloney.